Dorking Choral Society was founded by composer and symphonist Ralph Vaughan Williams a century ago. We are extremely proud of our heritage.
We are equally proud of our repertoire, which continues to evolve and is a joy to sing! Our performances include iconic choral masterpieces and traditional carols, as well as more contemporary works and newly commissioned pieces – with inspiring collaborations and an occasional dash of the unexpected!Looking ahead to our Centenary year and beyond, we are excited for the Society's future. We are an unauditioned choir, but aspire to a high standard under the dynamic Musical Directors we attract. We also attract new members who are always warmly welcomed.
---
Musical Director
Our musical director Daniel Mahoney is a young, accomplished choral conductor, originally from Boston USA, with a proven record of engaging programming, community building, vocal development and innovative thinking.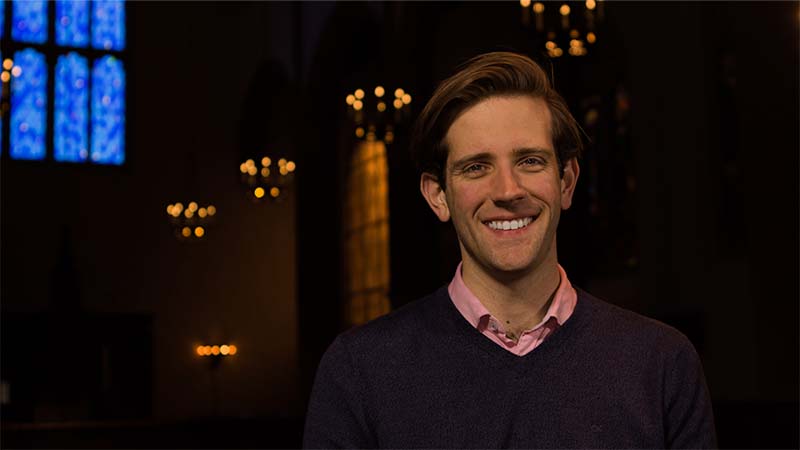 Since completing his postgraduate studies, he has been working regularly as a freelance conductor in both the USA and UK. This includes work with the University of Birmingham choirs, Schola Cantorum of Oxford, College of the Holy Cross, the Massachusetts Institute of Technology, the Boston Cecilia, Boston Landmarks Orchestra, the City of Birmingham Symphony Orchestra, the Boston Symphony Orchestra and several more.
He has recently moved to live full time in the UK and is delighted to be taking the musical helm of the Reading Bach Choir with interesting and challenging programme ideas for future concerts as well as repertoire embracing the Choir's cultural history.
When not on the podium, Daniel is busy singing. He is a professional choral and solo artist (a tenor) who appears with ensembles of every size, from early music consorts to symphonic choruses.
Daniel holds two postgraduate degrees in choral conducting: one from the University of Birmingham and the other from The Boston Conservatory. He is a qualified teacher and holds a Bachelor of Music in music education from Ithaca College, one of the leading programs for music educators in the United States.
History
Formed in 1922, Dorking Choral Society is well-established with a history to be proud of. We have enjoyed working with many eminent conductors who have helped the Society grow in to the choir it is today.
We have very strong connections with Vaughan Williams, who grew up at Leith Hill Place from the age of three. Staying close to his roots, he was appointed the first conductor of the Leith Hill Music Festival in 1904, a post he held until 1953. Vaughan Williams lived in Dorking from 1929 until 1953 and maintained connections with the town and the festival until his death in 1958. Over the years our choir has been led by William Cole, William Llewellyn, Julian Armitage-Smith, Philip White, Ivor Setterfield, Justin Doyle, Greg Batsleer, Hilary Campbell, Richard Wilberforce, David Young and Tim Ferguson; not forgetting Renee Stewart and Vaughan Williams himself taking rehearsals in 1940.
Each conductor has given the Society new opportunities and helped to secure our continued success. This is equally true of our present conductor, Daniel Mahoney, who ensures that the priorities to thoroughly enjoy our singing, strive for the highest standards and to be a warm and welcoming group are met.
As a thriving Choral Society with a vibrant history we can look to the future with confidence. We are excited to be approaching our Centenary – a milestone we fully intend to celebrate, in fine style and in fine voice!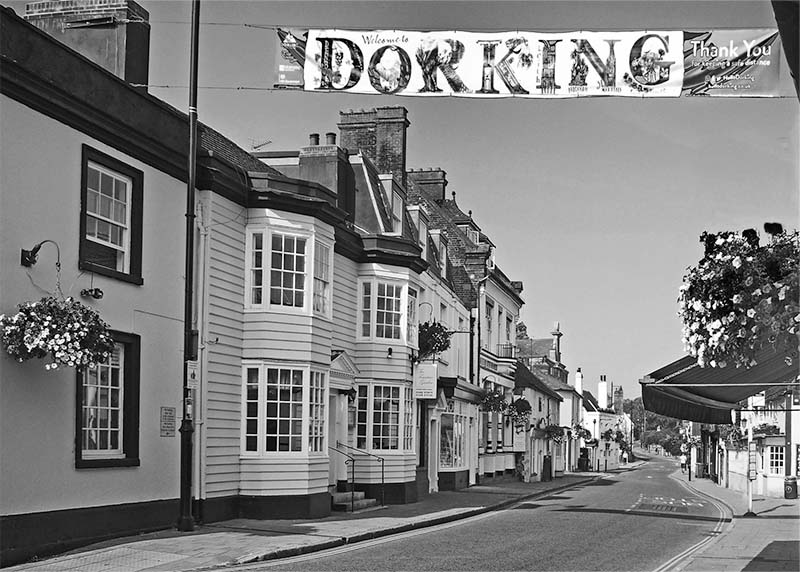 Leith Hill Music Festival (LHMF)
The LHMF is an annual singing festival and competition started in 1905 by Lady Evangeline Farrer and Margaret Vaughan Williams, sister of Ralph. The competition for amateur choirs and has grown into a two-day choral festival held in April at the Dorking Halls, with connected events throughout the year. The current musical director is composer and conductor Jonathan Willcocks.
Several local choirs regularly participate. Dorking Choral Society has been involved from the early days of the festival, and continues to support it every year. We are also lucky enough to have members of the festival organising committee – both past and present – as part of our choir.
The choirs compete by singing four pieces chosen from set festival competition categories. Past categories have included Living Composers, Unaccompanied and Accompanied works. We start to learn the competition pieces at our Wednesday rehearsals, also in small groups from within the choir and at home on our own, from early in the year. These pieces arejudged during the festival.
We also learn one or two larger works chosen by the festival Musical Director. All competing choirs sing these larger works together at an evening concert on competition day in Dorking Halls accompanied by a professional orchestra and soloists. This part of the festival is not judged and is purely for the enjoyment of the choirs and the audience.
While Leith Hill Music festival is a competition, we are all richer for spending the day immersed in music, singing and listening to other singers, and performing with the orchestra and talented soloists. It is a happy and enjoyable way to pass a day whatever the result of the competition.
Meet our Chairman – James Glaysher
Message from our chair:
Welcome to Dorking Choral Society. We are an active, non-auditioned choir of 80 singers, who rehearse in the heart of Dorking, with a shared love of choral music and singing, aspiring to a high standard of performance with our professional conductor and musicians. Many of our members are musically knowledgeable and help to support newly returning singers or those seeking to sing for the first time in a variety of genres, ranging from sacred works, opera choruses, chamber, madrigals, folk songs, jazz classics and sea shanties to new commissions from local composers in a variety of languages.
We put on two orchestral concerts ourselves, in November and June, a Christmas concert in December (often with a local children's choir) and compete and sing in the Leith Hill Music Festival each Spring. We are socially active, enjoying weekly after rehearsal drinks in a local pub, and from time to time like to tour – recently to Paris, Gouvieux (Dorking's twin town), Cardiff and Romania (unfortunately postponed due to Covid). We welcomed musicians from Sinalungha to our performance of Brahm's Requiem in 2019 and we are looking forward to developing relationships in Italy.
We were very excited to be celebrating our 100th Year as a charity in 2022.
I look forward to meeting and singing with you.
James Glaysher, Chair DCS.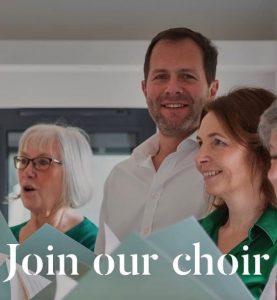 ---
Meet our President – Justin Doyle
Dorking Choral Society is privileged to have worked with many young conductors who have gone on to impressive professional careers.
We were therefore delighted when Justin Doyle, who conducted us for 10 years from 1996 – 2006, agreed to be our President in 2019, succeeding Phillip White. With his passion for choral singing, Justin encourages the choir to be outward-looking, to try different types of music, to celebrate community events, to join forces with children's and overseas choirs, to commission new pieces for amateur choirs from local composers, to tour and just to love singing!
Justin has a keen interest in our activities and we were thrilled when he found the time to join Timothy Ferguson and DCS for a couple of Zoom rehearsals during the COVID 19 lockdown, sharing reflections of his recent recording of Handel's Messiah with the RIAS Kammerchor, Berlin, where he is Chief Conductor and Artistic Director.
Justin Doyle is Chief Conductor and Artistic Director of the RIAS Kammerchor, Berlin. Born in Lancaster, England, Justin's musical education began as a chorister at Westminster Cathedral and a choral scholar at King's College, Cambridge.
He won second prize in the prestigious Cadaqués Orchestra Conducting Competition and was awarded the first Conductor Fellowship with the BBC Singers, with whom he continues to work. He has recently been appointed Gastprofessor in Choral Conducting at the Hochschule für Musik Hanns Eisler (Berlin). Justin is also an 'International Visitor' at the Sibelius Academy, Helsinki.
A regular guest conductor with Opera North, other recent engagements have included concerts with the Orchestra of Opera North, Royal Northern Sinfonia, Hallé Orchestra, Akademie für Alte Musik Berlin, Finnish Baroque Orchestra, King's Camerata, Johannesburg Philharmonic Orchestra, New London Orchestra, Manchester Camerata, Sinfonia of Leeds, and Jersey Chamber Orchestra. Justin has conducted many choirs and this season works for the first time with the Swedish Radio Choir.
Justin has been Artistic Director of the Ryedale Festival and Swaledale Festival, and Principal Conductor / Musical Director of ensembles such as the University of Manchester Chorus, Haffner Orchestra, Essex Symphony Orchestra and Manchester Chamber Choir. His broad musical tastes have also led him to work with period instrument ensembles, collaborate with musicians from other cultures, arrange folk music from all over the world and conduct live orchestral film scores.
His previous involvement in musical education includes the directorships of the Young Sinfonia (the youth orchestra of the Royal Northern Sinfonia, Sage Gateshead) and Opera North Children's Chorus; in 2018 he worked with the young singers of Genesis Sixteen.
Justin is in demand as a conductor of opera, in particular the works of Mozart ('an evening of almost unadulterated Mozartian bliss' Così fan tutte / Opera magazine), Haydn ('hard to imagine this fizzing piece ever being better done' L'infedeltà delusa / The Independent) and Britten ('Justin Doyle and the Opera North Orchestra work wonders to dispatch Britten's mischievous and miraculous chamber score with pungency and precision' Albert Herring / The Times). He conducted Bellini's I Capuleti e I Montecchi at Buxton in 2016 ('The Northern Chamber Orchestra under Justin Doyle gave the best performance I've heard from them at Buxton; Doyle brought out the best in them' / Bachtrack), returning in 2017 to conduct Britten's Albert Herring ('…a super performance under the baton of Justin Doyle' / Mark Ronan Theatre Reviews). He conducted Offenbach's 'Fantasio' at Garsington Opera in the summer of 2019 ('… Justin Doyle's excellent conducting also seems as if it is getting to the very heart of the piece' Music OMH).
His work as Chief Conductor of RIAS Kammerchor began with a critically acclaimed debut at the new Pierre Boulez Saal in Berlin (Monteverdi Vespers and Missa 'In illo tempore'). He has directed the choir in recordings of Britten and Haydn for Harmonia Mundi, as well as releasing 'Heritage – Treasures of Jewish-German Composers' with guest artist Azi Schwartz, the Cantor of Park Avenue, New York City.
As well as undertaking a major tour of Japan, Justin directs RIAS this season in concerts both in Berlin and in some of Europe's biggest venues with diverse repertoire ranging from Schütz to Handel, Bach, Brahms and Arvo Pärt.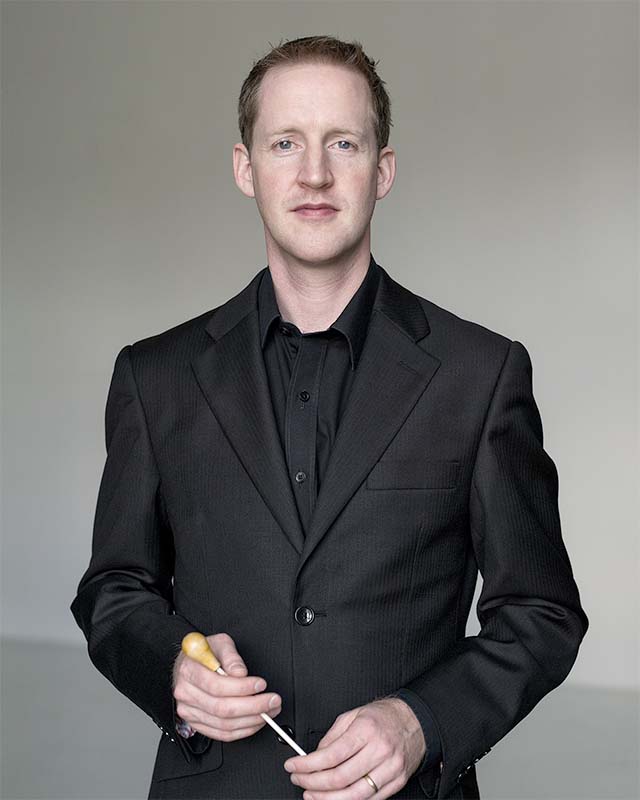 ---
Please click below for Justin's professional biography: